News corner
The past few weeks have seen several events organised by SmartAgriHubs partners:
The Benefits of Soil Organic Carbon
On the 18th of November, Joe Collins from Innovation for Agriculture (UK), ran an interactive workshop entitled; Enrich Soils and Benefits of Soil Organic Carbon (SOC).
The event was open to all farmers from 2 large catchments in Hampshire and Wiltshire (UK) – The Wyle Valley Farmers Group and the Nadder Valley Farmers Cluster.
They focused on how farming practices can sequester CO2 from the atmosphere, understanding the cycle for carbon, nitrogen, and other elements in the soil and how to understand physical, chemical, and biological properties of soil, and increased retention of water and nutrients, resulting in greater farm productivity.
The event was successful and attracted 40 farmers from across the catchments, 93% of the attendees rated the overall quality of the event between Excellent and Good. 86% of the attendees also stated that they intended to apply some of the information they had learnt from the event on to their own farms.
If you wish to find out more about this event, contact the Ireland&UK Regional Cluster at:

Trace Labs partners with a leading poultry manufacturer for the flagship experiment
Trace Labs is the leading partner in FIE 28 which is implementing blockchain technology to integrate data across the dairy and poultry supply chain.
In October, Trace Labs has partnered with Perutnina Ptuj - the largest poultry manufacturer in Southeast Europe - to improve the traceability of their poultry products which are marked by local sourcing and free-range breeding.
If you wish to find out more about this event, contact FIE 28 at:
Here is a selection of popular tweets from our Community from over the past few months! Do you want to feature here in the next newsletter? Make sure to tag us at @SmartAgriHubs.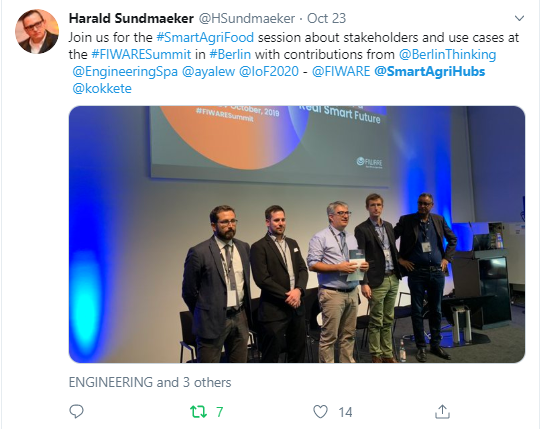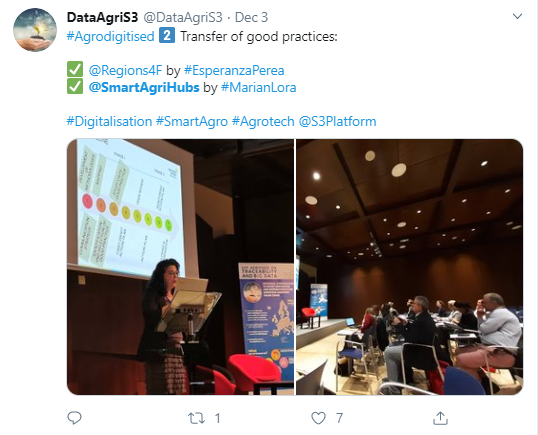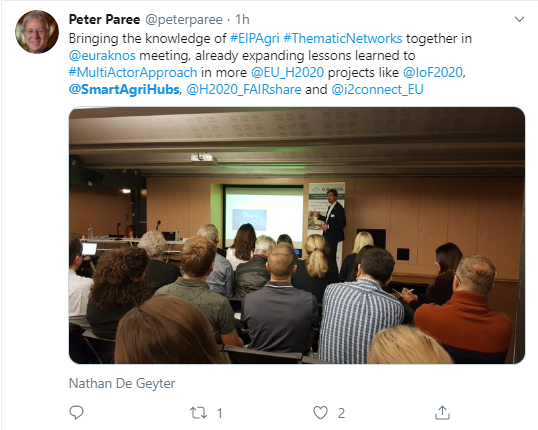 Missed out? Fear not, we have more events coming up either organised by or with a presence from the SmartAgriHubs community:
SmartAgriHubs Stakeholders Conference
This special occasion will mark the first year of the SmartAgriHubs project! In the first year we went from launching an Innovation Portal to establishing more profound links with and between the Digital Innovation Hubs, Competence Centres and Flagship Innovation Experiments.
We invite you to an exciting program full of interesting talks, workshops and activities on the first day. The second and third day are themed 'Synergy Days' where we synergize with other European Projects. Projects such as IoF2020, Nefertiti, Atlas and Demeter will be invited. And of cource there will be many possibilities to meet, greet and share knowledge in the exhibition area.
Fruit & Veg Professional Show - Rimini - Expo Centre
Plenty of novelties in store for Macfrut 2020 - the international fruit and vegetable trade fair to be held in Rimini (Italy).
The Spices & Herbs Global Expo will be launched, with a Global observatory on spices and aromatic herbs. Sardinia will be the Partner Region and there will be an international focus on Asia along Marco Polo's route. Find out more here.
La Ferme Digitale – LFDay 2020
LFDay, organised by La Ferme Digitale, is the first French event on AgTech. Agricultural and Food industries will be gathered to discuss innovations and challenges, drawing agricultural future ecosystem!
Meet 140 start-up, from France and abroad, attend conferences, keynotes, pitches, and network!
La Ferm Digitale is an association of 40 French Agri-Food Tech Start-ups. The event will be held on June 2, 2020 at Conseil Economique, Social et Environnmental in Paris. Find out more here.
Follow us on social media
Did you know? We have nearly reached 2.000 followers across all our social media channels. Will you help us reach 2K? Give us a follow on our accounts to stay involved with the SmartAgriHubs community!

This project has received funding from the European Union's Horizon 2020 research and innovation programme under grant agreement Nº 818182.
Do you have news you want to have featured in the next newsletter?
Subscribe to our newsletter