by George Beers and Tom Tynan
joint introduction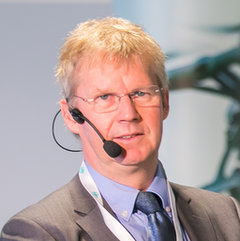 George Beers
Project Coordinator SmartAgriHubs
Dear partners,
I would like to inaugurate the launch of our first Newsletter with a warm thank you to the hard work shown in the first 6 months of SmartAgriHubs. We can all reflect on many early successes: establishing bridges between our stakeholders, welcoming new DIHs and the launch of our website.

Without a doubt, the highlight of our maiden voyage was the Kick-off conference in Prague in March, where we saw over 300 people attend, interact and network with our IoF2020 friends on the Synergy Day. It felt like a master shipbuilder confidently awaiting the ceremonial launch of a newly built vessel. We are now well in place and ready to start interacting with our DIHs and CCs.

The focus of this newsletter will be on the Kick-off conference. It includes interviews with our WP leaders and conference speakers on the experiences and added value of the event, and the learnings for the Regional Clusters. Additionally, three FIEs and three IoF2020 Use Cases will share with us their impression of the successful Synergy Day. Furthermore, the newsletter will also cast a light on the stories of 5 hand-picked FIEs.

There is a lot to look forward to in the months ahead: The Innovation Portal is being developed as we speak. Moreover, in the year ahead we will be expanding our network, and we will welcome new IEs through open calls. For now, enjoy this first newsletter!
Signed,

Dr. Ir. George Beers, Project Coordinator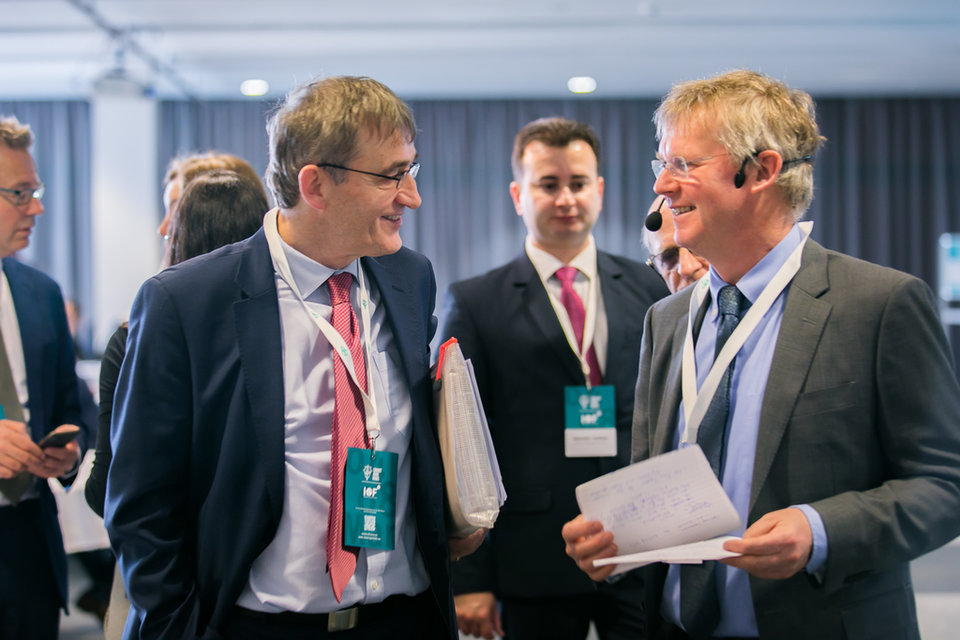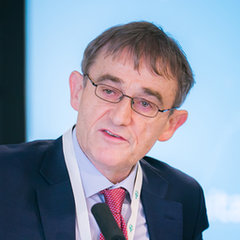 Tom Tynan
European Commission DG AGRI
'At the kick-off event in Prague, I particularly welcomed the fact that of the 108 partners involved in the project, 68 are SMEs and 54 percent of the budget is being allocated to SME's.  Europe is an SME economy – what Germany refers to as 'Mittelstand' – small and medium sized companies are the bedrock of our economy.  Their capacity for innovation and flexibility in a changing business environment makes them crucial for Europe's success in the global economy.
We have been very active in the past couple of years on digitalisation fostering a dialogue on digital innovation hubs, data sharing, data management, digital AKIS and digital strategies.  Digital technologies have also inspired our investment at EU level through the research and innovation programme Horizon 2020.
Digitalisation has become a core priority of the EU - the strategic importance of a network of agricultural digital innovation hubs cannot be underestimated.  The SmartAgriHubs project will build a network of agricultural digital hubs across Europe.
For European agriculture to remain competitive, we must embrace technological developments and transfer research and innovation to farms.  We want Europe's farmers to remain locally responsible and globally competitive by having access to a broad range of technologies that are available now and in the future.
Agriculture has always developed new practices and techniques.  Innovation is a pre-requisite for maintaining this progress.   We have both the opportunity and the responsibility to develop technologies for the transition towards more sustainable farming systems.
Commissioner Hogan has continually stated that this agenda must be delivered for all farms and not just the few'.
Signed,
Tom Tynan, European Commission DG AGRI