SURE-Farm aims to analyse, assess and improve the resilience and sustainability of farms and farming systems in the EU. For this purpose, SURE-Farm creates scenarios and a novel and comprehensive resilience-enabling framework. It also develops a set of advanced risk assessment and management tools as well as an improved demographic assessment model and a resilience assessment tool for policies. Furthermore, in conjunction with stakeholders, SURE-Farm co-creates and applies an integrated resilience assessment model and co-designs implementation roadmaps.
What impact is the SURE-Farm project expected to have on the farmers' activity?
The SURE-Farm project will provide farmers with better risk management tools by conducting a comprehensive analysis of the determinants of farmers' risk perceptions and decisions and by developing a set of risk management tools and strategies to enhance farm resilience, which are better tailored to the specific needs of different types of farmers.
The project will also provide farmers a range of advanced analyses, comprehensive databases and innovative tools SURE-Farm as result of co-creation processes with stakeholders. The tools, strategies and guidance from SURE-Farm will help to revitalize the EU agricultural sector, to increase its attractiveness and to maintain its capability to deliver private and public goods in the long-run in the face of continuous change and uncertainty. The results and tools can also be used for decision-making by a broad range of stakeholders and policymakers.
What is the impact of the COVID-19 crisis on the project, has the end-user's interest increased for the SURE-Farm activities?
COVID-19 crisis has increased the interest of SURE-Farm activities as SURE-Farm provides a framework to assess the resilience capacity of farming systems to known and unknown challenges, such as COVID-19. In SURE-Farm we have the great opportunity to operationalize the analytical framework and assess the resilience capacity in 11 case studies to deal with COVID-19 with different farming specializations across Europe. We have learnt about the resilience capacities of the farming systems in the past as well as the characteristics (resilience attributes) and strategies conducted by the actors in the farming systems that make them more resilient. Experience in the past provides lessons to reach resilient farming systems in the future. Farmers and other actors who belong to the farming systems, such as cooperatives, farmers' organizations, value chain actors, NGOs, financial institutions are interested in SURE-Farm as we are proposing policy recommendations to enhance resilience of the farming systems consider the diversity of farming systems in Europe.
What opportunities do you see for synergy between SURE-Farm and SmartAgriHubs ?
There are interesting connections between the projects. Innovation is embedded in SURE-Farm through two ways. First, we found that innovation is one of the key characteristics that make the farming systems more resilient. Resilience is more than robustness. It also comprises adaptability and transformability capacities of the farming systems. Innovation is needed to build the capacity of systems to learn and transform and incorporate or develop new elements and processes to a degree that their operational logic is changed, typically when ecological, economic, or social pressures threaten to make it untenable or dysfunctional. In SURE-farm we define policy recommendations to foster innovation. Innovative business models (shared farming, co-operative farming, new products, and production systems) also enhance the attractiveness of the farming systems and may enable resilient farm structures and demographics.
Second, we follow innovative methods to engage stakeholders throughout the whole project. Online co-creation activities are conducted with stakeholders around Europe to co-design improved risk management tools and resilience enabling policies.

This project has received funds from the European Union's Horizon 2020 research and innovation programme under Grant Agreement No 727520
Contact
Dr. Miranda Meuwissen
Professor of risk management in food supply chains
Business Economics Group
Wageningen University & Research
www.surefarmproject.eu
The SURE-farm project comprises six interrelated objectives:
To reach these objectives, SURE-Farm applies a mixed-methods approach: quantitative methods, such as statistics, econometrics and modelling, are used to identify underlying patterns, causal explanations and likely contributing factors; while qualitative methods, such as interviews, participatory approaches and stakeholder workshops, access experiential and contextual knowledge and provide more nuanced insights.
Develop a framework to measure the determinants of the resilience of current and future EU agricultural systems.
Comprehensively understand farmers' risk behaviour and risk management decisions and develop and test a set of effective and usable risk management strategies and decision support tools.
Develop an improved farm demographic assessment tool.
Develop a policy resilience assessment tool to evaluate the strengths and weaknesses of the existing policy framework (in particular the CAP).
Develop an integrated impact assessment tool to make long-term projections towards the effective delivery of private and public goods.
Identify pathways towards resilience and non-resilience, and synthesize lessons learned to design an enabling environment and construct roadmaps for implementation, co-created with public and private actors.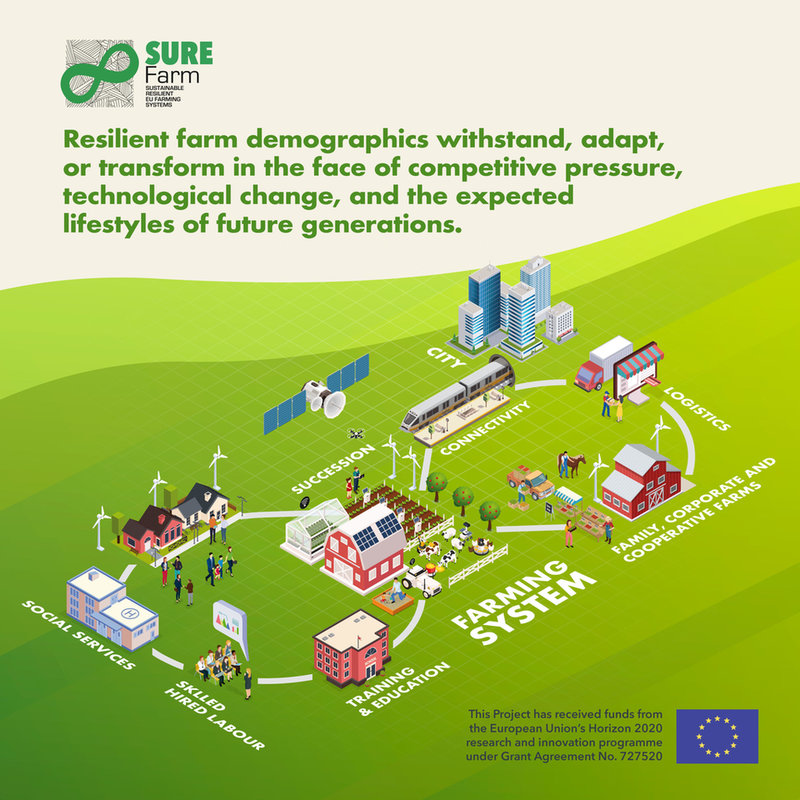 Synergising
with Sure-Farm