Community at the Heart of "Growing Digital" within Skillnet Ireland
Skillnet Ireland is a business support agency of the Irish Government providing workforce design frameworks to support competitiveness, growth and employment. A significant challenge for business continues to be the effective adoption of digital technologies to achieve the benefits promised. Over the last 7 months, we have endeavoured to address those challenges within the agriculture sector to build a framework and roadmap attractive to the farming community based on a multi-actor approach called "Growing Digital"
Agriculture presents its own unique challenges thus requiring a skills roadmap which is fit-for-purpose. Skillnet Ireland has engaged with key stakeholders across the quad-helix to inform our design of such an approach. The collaboration brings together a number of key stakeholders across government (Department of Agriculture), state agencies (Teagasc, Skillnet Ireland), competence centres (Precision Agriculture Centre of Excellence (PACE) and Agriculture Centre of Excellence (ACE), academic institute/Digital Innovation Hub (Waterford Institute of Technology – WIT/TSSG) and industry associations (the Irish Farmers Association), our "Skillnets"1 and then the farmer, to validate our thinking. The inclusion of farmers is key as the roadmap must meet their need and their circumstances - running a farm has its own unique challenges which must be taken into account.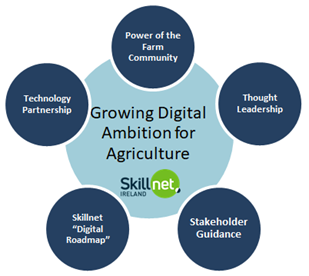 Since July 2020, through an intense engagement based on human centric design involving the key stakeholder groups and Skillnet Ireland's own skills development experts, a roadmap has been constructed. Our methodology for achieving successful digital adoption comprises (1) recognising the importance of community to technology adoption within farming (2) providing skills at the appropriate level based on the digital ambition of the farmer or their location on the digital journey and (3) demonstrating the practice to digital farming, the value and opportunity to achieve increased farm productivity, reduced wasted, improve customer experience and innovation.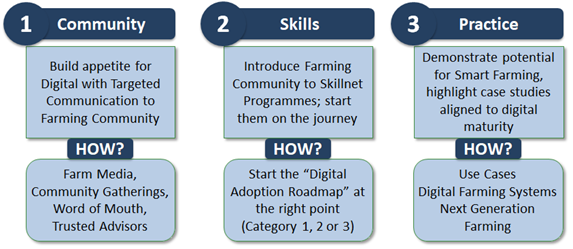 How do we deliver on the framework? Firstly, by working closely with the stakeholders to build a roadmap across three digital categories – novice, worker and innovator – to identify specific "value-add" to the farmer when embracing digital. We believe such a value-driven approach that speaks directly to the needs of farmer, and which importantly embraces the role of the community to encourage digital ambition, will deliver the success we stride to achieve.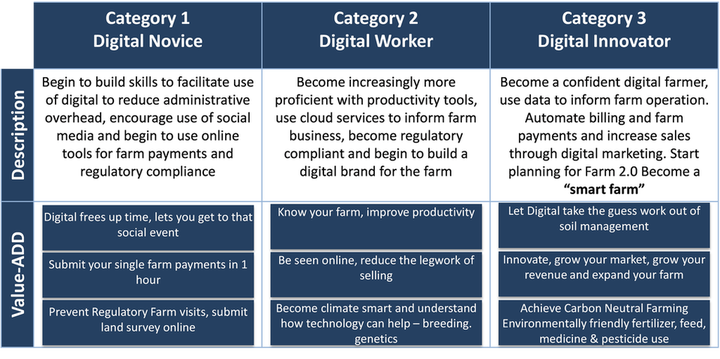 With the assistance of Teagasc, the state agency providing research, advisory and education in agriculture, horticulture, food and rural development in Ireland we have now concluded phase 1 of the roadmap – assessing the roadmap and identifying skills development modules - and will now engage with farmers to refine that content and determine the appropriateness. Our timeline is outlined below, with the ambition to launch the first phase of the "Growing Digital" roadmap towards the end of 2021.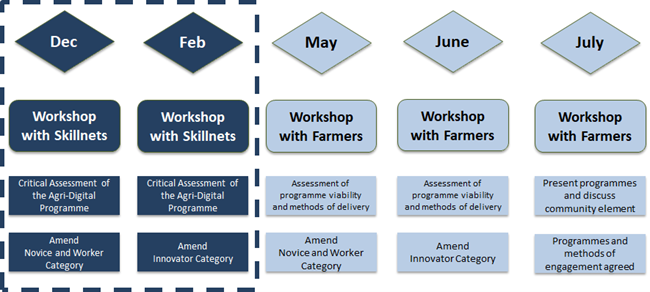 What's new 2/2
Get the latest scoops concerning the SmartAgriHubs Ecosystem!
This time you will be the first to hear about the IoF2020 Final Event,
the LXP for DIHs and skillnet Ireland.