Thank you for joining us at the IoT Week!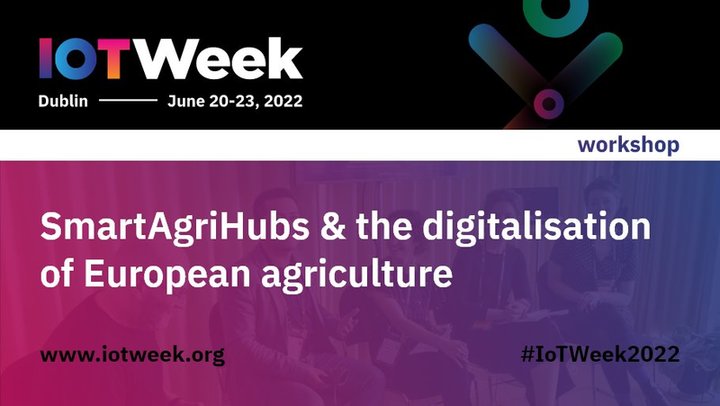 Last week, we joined the #IoTWeek in Dublin. Our half-day workshop covered vital elements for our community:
the experiments supported by our Digital Innovation Hubs and Regional Clusters
the tools we developed, such as the Innovation Portal and the ATN
Our future and the sustainability of our project
our impact on #gender equality and generational renewal

During our discussions, our Project Coordinator George Beers highlighted the flexibility of our open calls scheme. In the face of the COVID-19 crisis, we were able to offer targeted funding to help mitigate the effects of the pandemic.
The Regional Cluster France, represented by Lucie Philippe--Jan and Dovilé Gasparaviciute highlighted successful open calls beneficiaries, which after receiving support from SmartAgriHubs, are now successfully leveraging millions in private funding.
Radu-Corneliu Marin, from the Regional Cluster South-East Europe, highlighted the invaluable input of farmer perspective in the development of new #agritech solutions.
We would like to thank the organizers of the IoT Forum, along with all our speakers! We are looking forward to meeting you again in person, at our Final Conference in Lisbon.
Looking back at the Open Calls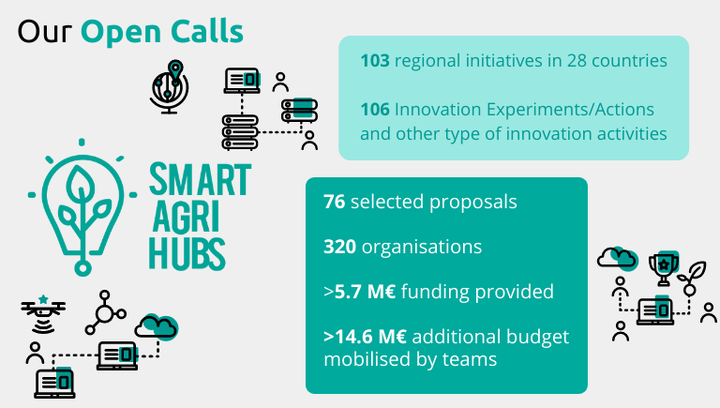 Our Open Calls are now closed! In the past years, SmartAgriHubs organised different open calls that were designed in accordance with different activities realised by established or new DIHs. We would like to thank you for your participation and support!
In this infographic, you can find a selection of key figures regarding our open calls. Our Open Call website page will remain active and is now being updated with information on previous calls, their impact on our community and the digitalisation of European agriculture. A first update has already been implemented, click here to visit!
What's new 2/2
Read more about our participation to
the IoT week & the legacy of our Open Calls!