Synergysing
Read the summary of the take-home messages from some of the
synergy projects present in lisbon
Read all about the FIE website update

XX
Work package 5
Name:
Cynthia Giagnocavo
Work Package:
Competences Centres
Participation in the synergy days allowed AgriBIT project to learn about further realities in the world of smart farming. We had the opportunity to make new contacts and exchange information for example on the standards available for data modeling in the sector. Other interesting results were obtained during the workshop "AgriBIT: precision farming requirements and DSS user interfaces" held by Engineering Ingegneria informatica S.P.A., partner and coordinator of AgriBIT. During the workshop some of the services developed so far were presented and important feedback was collected from the participants. In general, the event represented an opportunity for growth and further development for the project, we hope to take part in similar events again.
H2020-AURORAL was launched in January 1, 2021 aiming to contribute to increase economic growth in rural areas and to tackle significant societal challenges.
H2020-AURORAL focuses on increasing connectivity and delivering a digital environment of smart objects interoperable services platforms able to trigger dynamic rural ecosystems of innovation chains, applications and services. Thus, AURORAL contributes to increase economic growth and create jobs in rural areas and to tackle significant societal challenges, contributes to overcoming digital divide between rural and urban areas and to develop the potential offered by increased connectivity and digitisation of rural areas. AURORAL digital environment is demonstrated by cost-efficient and flexible cross-domain applications through large-scale pilots in five European regions. It builds on an open, API-based, interoperable and federated Internet of Things (IoT) architecture and includes a reference implementation supporting flexible integration of heterogeneous services, bridging the interoperability gap of the smart object platforms and creating markets for services in rural areas.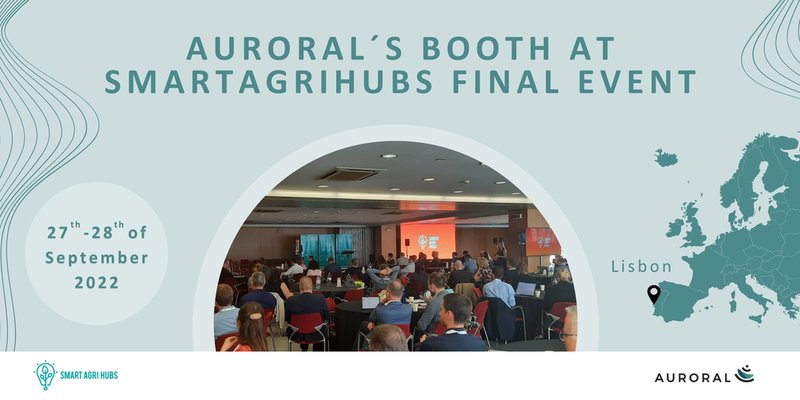 H2020-AURORAL is building a new concept, the Smart Communities, a new European paradigm for sustainable development. Those are areas based in the use of innovative solutions to improve resilience, building on local strengths and opportunities. The main objectives are:
Connect and share data collected locally through a secure and privacy-preserving framework.
Engage external technology and application providers in exploiting their data by offering advanced horizontal services to process and create value out of these data.
Participate in new dynamic online marketplaces as commodities services and online platform operators.
Implement an interoperable way and based on open application interfaces based on open standards
H2020-AURORAL digital environment is demonstrated through pilots in 8 European regions:
Alentejo (Portugal)
Southern Burgenland (Austria)
Hålogaland (Norway) - Tourism
Hålogaland (Norway) - Health
Västerbotten (Sweden)
Lapland (Finland)
Piedmont (Italy)
Penedès (Spain)
DEMETER participated in the Synergy Days at the SmartAgriHubs final conference with two workshops. The first workshop discussed 'Semantic Interoperability and Data Sharing in agriculture' and the second focused on what more needs to be done to ensure 'Gender equality in the agricultural value chain'. Three of our pilot projects participated in the Marketplace exhibition space and we also contributed to sessions organised by other H2020 projects and several roundtable discussions.
From the discussion, it is evident that data interoperability and data integration are still key challenges for the agriculture sector. Work towards the creation of an Agriculture Interoperability Space has been ongoing in DEMETER from a semantic perspective with the development of the Agriculture Information Model (AIM). The workshop at the SAH final event supported the belief that AIM is a unique element that can enable traversal connection between data of various ecosystems and services. Future work in DEMETER will focus on the promotion and standardization of AIM as well as activities (webinar, report, blog articles) to further discuss how to manage agricultural data and who takes ownership of this task.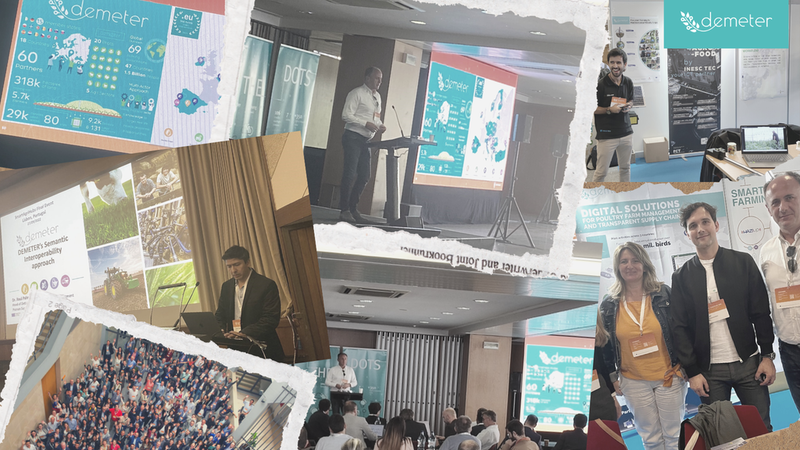 Furthermore, it is important to recognize the multiple roles played by women farmers, both at family and community level. Fostering inclusive governance at all levels, strengthening women's engagement and participation is key to delivering the opportunity to represent and advocate for their specific needs and interests. To achieve that, and to support long-lasting change in the way we approach gender equality in agri-tech, a collaborative effort is needed. Discussion on gender exclusivity and imbalance leads us to another closely related issue, a generation gap. Over half of the farms in EU are run by farmers aged 55 and more. The older generations need help with digitization. Younger generations are acting with lower levels of authority and are provided with less influence.
Presentations and discussions from the workshop emphasized that the most urgent topics that we should pay attention to are involving women in more decision-making, enabling easier access to capital and supporting more mentorship and lobbying. The fact that most of the discussions about gender inclusivity and gender balance are themselves not gender-balanced was confirmed at the workshop itself. The majority of participants in these discussions are still women. Until we achieve gender balanced discussions, we will not have a gender balance. We will continue to spotlight the issue of gender inequality in agriculture and encourage more men to join the conversation.
Hub Iberia Agrotech (HIBA), promoted and led by the Regional Ministry of Agriculture, Fisheries, Water and Rural Development of the Andalusian Regional Government through Andalucía Agrotech DIH, is a project funded by the Interreg VA Spain-Portugal (POCTEP) programme that aims to create a multi-regional ecosystem for the digitisation of the agri-food sector through the Digital Innovation Hubs (DIH).
The HIBA project is an example of cross-border cooperation to boost the digital transformation of the agri-food sector. In total, 19 partners, including entities related to innovation and digitisation of the agri-food sector in Spain and Portugal, are working together on the creation of an Iberian network of DIHs in Agrotech to promote entrepreneurship and improve business competitiveness based on digital innovation.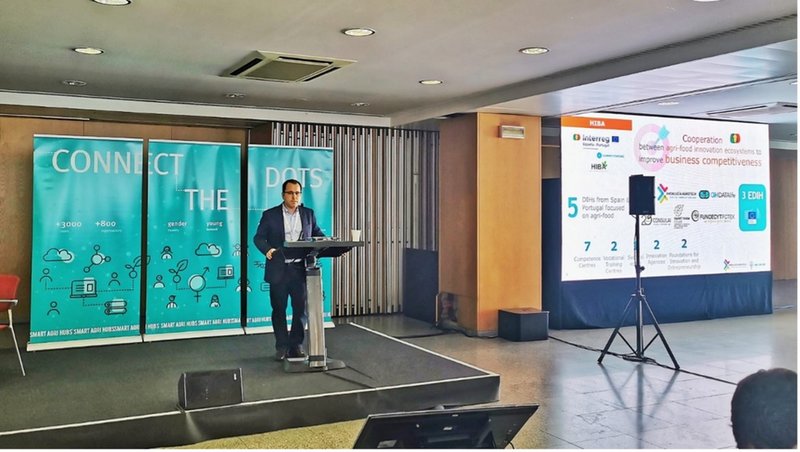 In the framework of the final event of the SmartAgriHubs project, HIBA made a presentation of its objectives and most important actions, highlighting innovation, entrepreneurship and training as its main pillars. In addition, a workshop within the event also presented the main axes of the project.
HIBA is a project aimed at the creation of testing, experimentation and demonstration services for technologies related to Earth Observation, Robotics, the Internet of Things and Artificial Intelligence. Moreover, it is focused on the development of training itineraries linked to digital transformation and entrepreneurship for both vocational training and university students and for all citizens, as well as on the implementation of an advisory service for the digital transformation of the agri-food SMEs. On the other hand, HIBA is also supporting services such as Iberia Conecta, an open-innovation programme to solve digitalisation challenges of agri-food companies through technological solutions coming from the entrepreneurial ecosystem.
It is possible to improve each stage of food distribution with the integration of blockchain technology (BCT) into the wide context of agrifood system? This is the question that the EU-funded TRUSTyFOOD project tries to answer to support practitioners and policymakers in future choices. Specifically, it will set the table for future research, basing its assumptions on systematic monitoring and reviews of national, European, and international pilots/use cases, experiences, and best practices, consulting stakeholders and co-creating directly with them final insights. The project's main goal is to learn from existing experiences, understanding why communities (users) accept or reject blockchain-based projects, the mistakes made by others so as not to repeat them, the best and most innovative practices in blockchain development in different sectors to shape different possible futures for blockchain applications in the agrifood domain.
As a recently born HORIZON project in July 2022, for TRUSTyFOOD taking part during the Synergy Dats at the SmartAgriHubs Final Event in Lisbon represented a good and unique oportunity to introduce the project and its goals to more than 350 attendees to the event that work in the domain. This networking oportunity helps in achieving the objectives of TRUSTyFOOD project.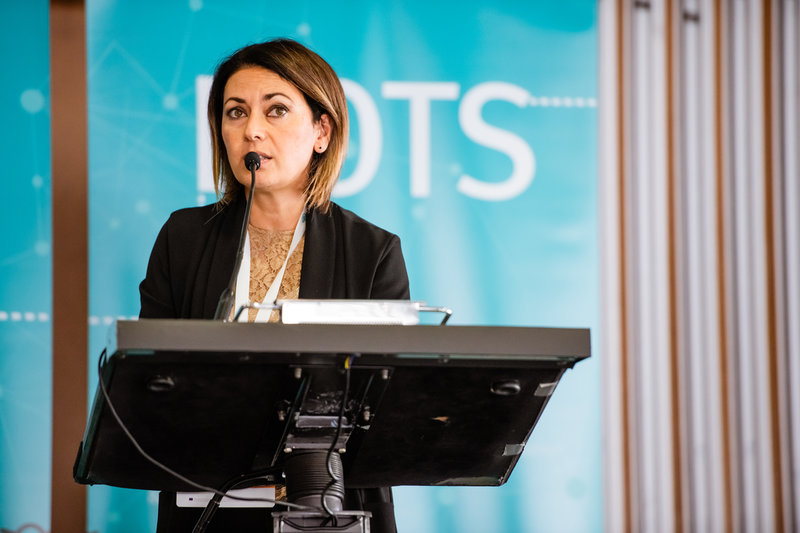 From a NEFERTITI project perspective, Smart Agri Hubs Synergy Days in Lisbon have been a great opportunity in many ways:
To inform and train different actors on "Farm demonstration" best practices and methodologies
To inform actors about the "Farm Demo" platform and the impact of Farms videos
To organise a field demonstration (in the facilities of ISA-University of Lisboa) :

"Demonstration of digital solutions in the wine sector"
Water management: irrigation management using probe and weather station + thermography robot
Pesticide reduction: automatic traps + drone with pesticide application
In the second part of the demo-event, the participants had a two-parts discussion: one on the technical part of the demonstration and one on the demonstration itself.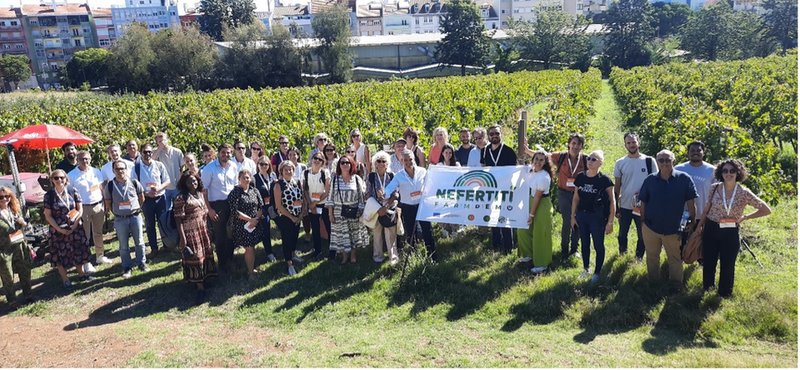 Moreover, beyond NEFERTITI workshops and dedicated sessions, the synergy days were also very usefull for the following objectives:
To exchange with participants and many other European projects
To reflect on the future cooperations that may happen in the European community working R&I in agriculture and digital challenges
To draft common Policy recommendations for the future of digital innovation in agriculture
The Digital Transformation strategy of the European Union has, among others, a particular priority: the creation of common data platforms based on a unified architecture and an established standard. Manufacturing, agriculture, energy and healthcare represent key fields for the deployment of the EU strategy for digitalisation. In this framework, the EU-funded OPEN DEI project aims to detect gaps, encourage synergies, support regional and national cooperation, and enhance communication among the Innovation Actions implementing the EU Digital Transformation strategy.
Havind the chance to take part during the Synergy Days at the SmartAgriHubs Final Events in September had two major advantages for Open Dei project. The first one is related to the fact that different projects are dealing with Policy Recommendations, both in rural and agrifood sectors. Hearing deom different resources and comparing the experiences can be useful for aligning recommendations towards policy-makers and decision making as a unique and aligned voice in the domain. The second advantage is that working together with other projects being developed all accross the EU, reinforces the overall impact of EU funded projects.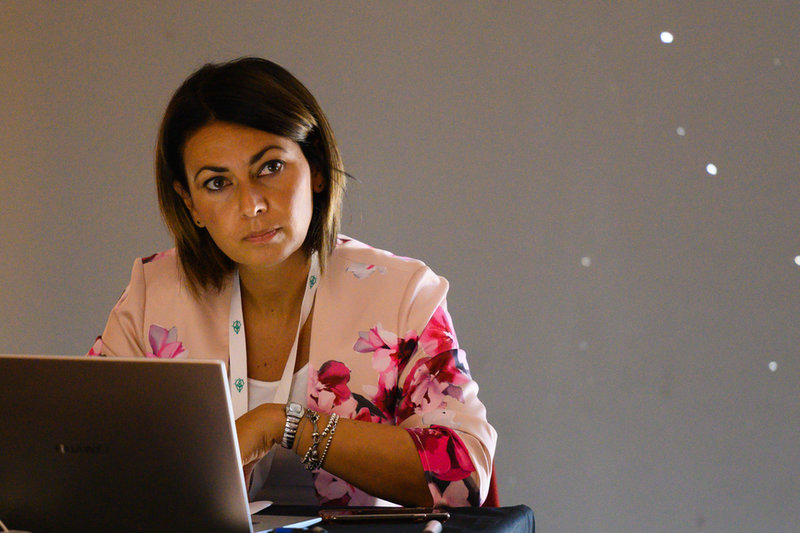 Horizon Europe project Data4Food2030 is honoured to have participated at the SmartAgriHub Synergy Days, in Lisbon, in late September.
The exceptionally organised event was the ideal occasion for the project to catch the public eye for the first time, as important stakeholders from all across Europe were brought together and were united towards a common goal: the future of the agrifood sector with sustainability being the main pillar.
Grigoris Chatzikostas (Foodscale Hub), the Communications Manager of Data4Food2030 gave a brief presentation of the project, in front of prominent guests from the European Commission, top-ranking universities and innovative companies - stakeholders that share the same values and mindset for the digital transformation of the agrifood sector
Data4Food2030 was amongst tens of projects that had the chance to exhibit their efforts and contribution to agrifood sector innovations, in their own booths.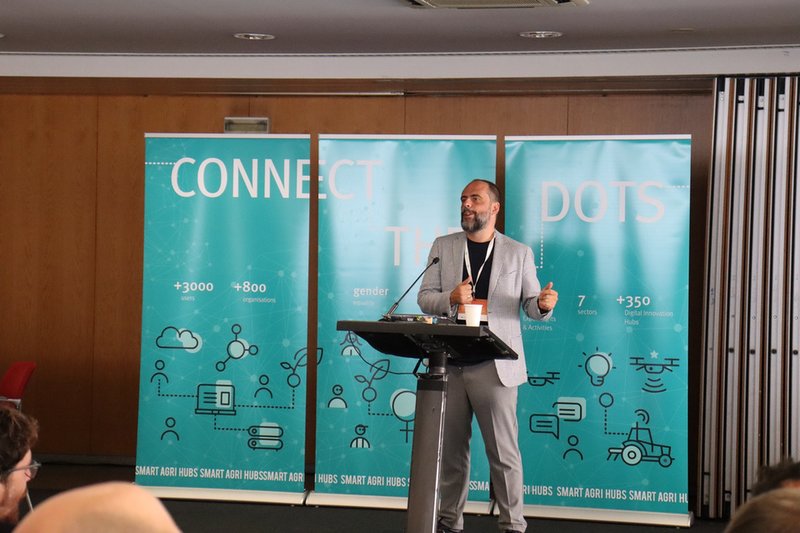 During all days of the SAH final events, we had the opportunity to present the project's objectives and, most importantly, have the chance to meet like-minded peers in our booth, where productive and fruitful discussions about Data Economy were stimulated. In addition, committed to our belief that actions speak louder than words, we emphasised the project's case studies.
These real-life examples, which have been successfully brought into action, were an inspiration for all visitors of our booth, who were provided with information and insights on how we are willing to achieve our goals.
Besides the detailed undertaking of the event and its smooth flow, one thing stood out; the great energy everyone brought and their desire to make changes that matter. It has been a great pleasure for all attendants to physically interact with each other after 2 years of Covid-19 restrictions, a fact that made the SAH Synergy days a unique and memorable experience for all.