Colophon
This newsletter was brought to you by The Gender Taskforce of Smartagrihubs. We are thankful to our external contributors. If you wish to contribute to our next edition, please reach out to communications@smartagrihubs.eu
News corner
Discover the latest DIHs to have joined the Innovation Portal!

TEAM Rural Academy - TEAM Rural
Digital Innovation Hub
TEAM Rural is an initiative focused on the development of rural / regional economic ecosystems. The emphasis of development is based on digitalisation being a catalysts for engagement and Internationalisation of existing and new enterprises.

Southeast Digital Innovation Hub
Digital Innovation Hub
Competence Center
NGO
The Southeast Digital Innovation Hub (Digihub.BG) supports the development of the data-driven economy in the southeastern region in Bulgaria.
Investing in gender equality: the future of SmartAgriHubs Gender Taskforce
Join the SmartAgriHubs workshop during our final event on day two to find out about the future of the SmartAgriHubs Gender Taskforce.
The raison d'être of SmartAgriHubs is inclusive and exponential Agri-digital community and network building, showcasing Agri-digital innovation which leads to more sustainable and competitive European agriculture. In the past 4 years, the SmartAgriHubs Gender Taskforce set out the path for the wider agri-tech community, expanding beyond the project.
Through communication campaigns, events, and synergies with other H2020 projects and policy-makers, the SmartAgriHubs Gender Taskforce highlighted the importance of
Investing capital in women-led innovative tech projects
Investing resources in training and educating
Investing time & labour to change our processes and structures.
In this session, the SmartAgriHubs Gender Taskforce will present:
Our milestones and achievements, by Marlijn Henskens
Changing the Face of Agritech, a brainstorm session facilitated by Margaux Plurien and Cynthia Giagnocavo
The future of the Gender Taskforce by Lorena van de Kolk
Organizer:
SmartAgriHubs Gender Taskforce
Agriculture Innovations by Women Farmers
Join the COPA-COGECA workshop during the final event on day two to learn about Agriculture Innovations by Women Farmers.
16:00-16:10 | Setting the Scene
Branwen Miles, Senior Policy Advisor, COPA-COGECA
16:10-16:40 | Panel Debate
Diana Lenzi, President, European Council of Young Farmers-CEJA
Hanna Chodkowska, Vice-Chair, COPA-COGECA Women's Committee
Karolina Menclova, Managing Director, Czech-Moravian Association of Agricultural Entrepreneurs-ČMSZP
16:40-16:55 | Questions & Answers
16:55-17:00 | End of the Workshop
Workshop Organiser:
COPA-COGECA - Branwen Miles (Senior Policy Advisor)
Addressing gender inequality in the agri sector: an inclusive value chain
Don't forget to check out the workshop by DEMETER on gender inequality in the agri sector on day three of the final event!
The European agricultural sector is undeniably facing several challenges including an ageing population and gender inequality. Only 28.7% of farm managers are women while on a wider scale, women's gross hourly earnings are on average 16.2% below those of men in the European Union (EU-28). Furthermore, women have a lower adoption rate of agricultural technologies than men. Research suggests that this is not due to gender but gender-differentiated factors such as having less access to capital and owning smaller farms. This workshop will address gender inequality in the Agri sector from several different perspectives:
Farmer level - Female farmer participating in DEMETER to talk about her experiences
Policy level - World Farmers' Organisation Policy Executive to talk about what can be done at the policy level
Technology level – Experience from a female-led agritech entrepreneur
Project level – What is happening in EU projects to support gender inclusivity?
Research – How can gender-inclusive research support agriculture?
Conclusion – to dos by attendees to support
Workshop Organiser:
DEMETER
Here is a selection of popular tweets from our Community from over the past few months! Do you want to feature here in the next newsletter? Make sure to tag us at @SmartAgriHubs.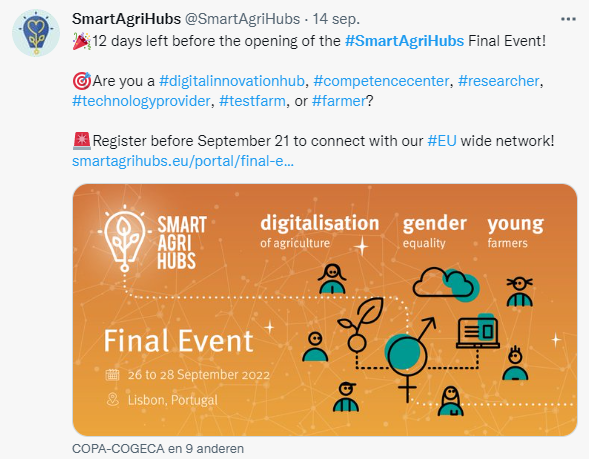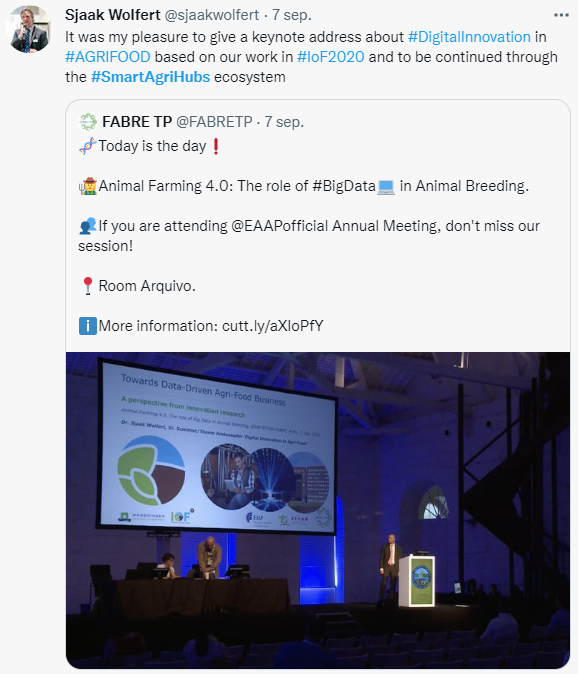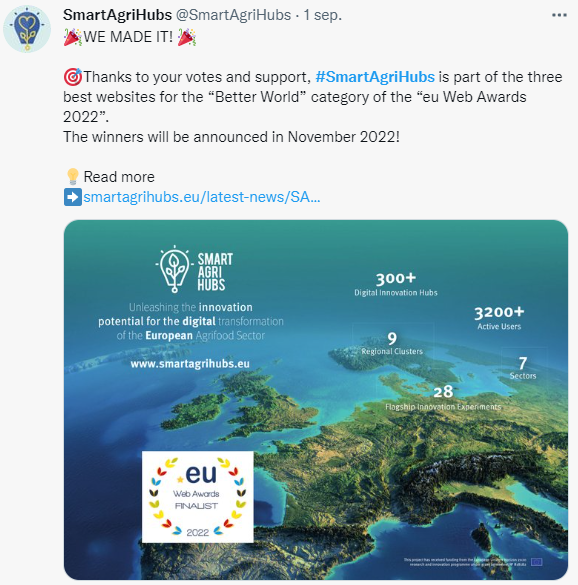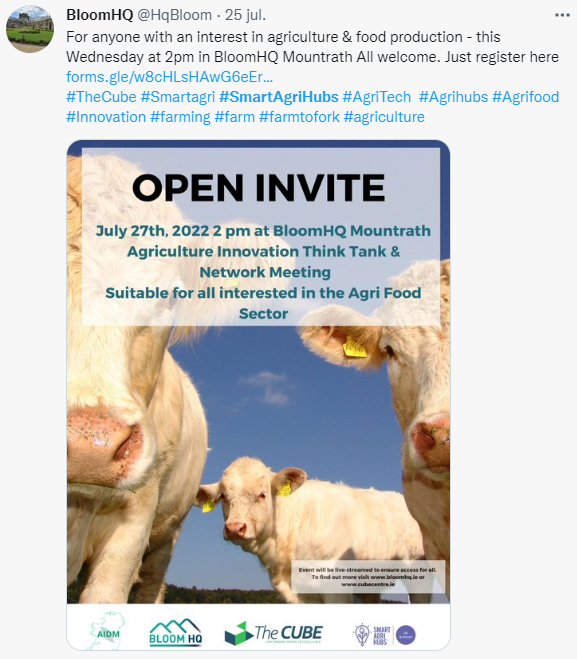 Follow us on social media
Did you know? There are more than 7.600 followers across all our SAH social media channels.
Will you help us reach 8K? Give us a follow on our accounts to stay involved with the SmartAgriHubs community!

This project has received funding from the European Union's Horizon 2020 research and innovation programme under grant agreement Nº 818182.
Do you have news you want to have featured in the next newsletter?
Agri-Food Cooperative Women of Spain
The Association of Agri-Food Cooperative Women of Spain, AMCAE, was created from the identification made in the framework of the Integra Project (2011-2013). It reflected the limited role and level of participation of (Spanish) women farmers and livestock breeders in agri-food cooperatives. The corrective measures proposed as a result of this finding are aimed at balancing and promoting the level of participation of women in cooperatives, as well as highlighting the need to create networks of women in the sector, to facilitate the sharing of objectives, challenges and lines of action.
Therefore, among AMCAE's objectives are the promotion, articulation and defence of the integration of women associates in agricultural cooperatives or societies of agricultural transformation, as well as their economic, political and socio-cultural participation. In order to contribute to these objectives, projects will be carried out in which, in addition, the aim is to encourage the visualization of women in the rural environment, to combat inequality between men and women, and to promote their access to training, innovation, technology and education.
In order to meet the objectives set, AMCAE has developed a program of actions of special interest to promote the role of women in rural development under the title "Women in Agri-food Cooperatives: Guaranteeing Territorial Sustainability and Advancing the Rural Environment".
More info at:
https://www.facebook.com/amcae2016/
http://www.agro-alimentarias.coop/servicios/igualdad